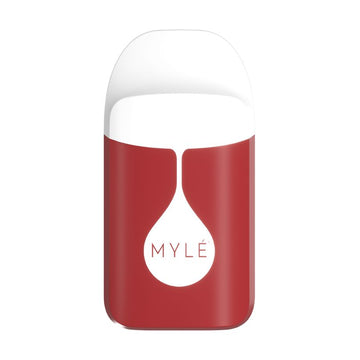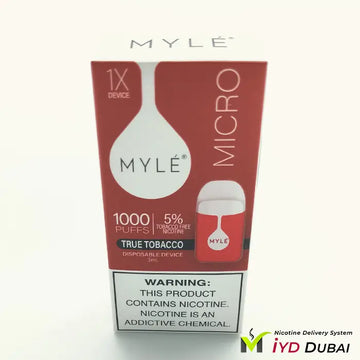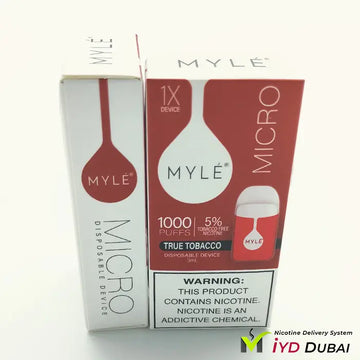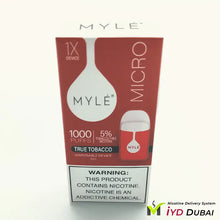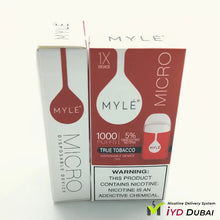 +38 people are viewing this product.
True Tobacco Myle Micro Disposable Device
Device : 1 Disposable Device Per Pack

Total Puffs : 1000 puffs (approx)

ML : 3ML built-in reservoir

E-liquid : Prefilled with flavorful e-liquid

Technology : Waterproof and sealed

MG : 50mg/20mg of tobacco free salt nicotine

Flavor : A rich classic natural earthy tobacco flavor. A familiar blend that you will find satisfying, without the smoke, ash or tar taste.

Vape Device Type: Myle Vape Disposable
Flavor Description :
The disposable tobacco gadget is made with a rich, earthy, and typical tobacco flavor. The MYLÉ Micro True Tobacco Vape Device is a 100% pure tobacco vape, which is perfect for those who are looking for a stronger flavor. The disposable tobacco device is designed to be used only once, so you don't have to worry about it getting used up too quickly or going to waste.
| Title | Specifications |
| --- | --- |
| Flavor Name | MYLÉ Micro True Tobacco |
| Disposable Devices | 1 disposable vape device |
| Size (in.) | Lightweight |
| Manual | 1 User manual |
| Liquid/pod | 3ml built-in reservoir |
| Technology | Anti-leak technology/ Waterproof and sealed |
| Nicotine by volume/unit | 2%-5% |
| Salt Nicotine | 50mg/20mg of tobacco-free salt nicotine |
| Price | Starting from 49 AED |
Note:
This product contains nicotine. Minors shouldn't consume nicotine since it is an addictive chemical. Adults over 21 can only use MYLÉ Drip and other vaping products.
MYLÉ Micro Disposable Device :
MYLE Micro disposable e-cigarette is a revolutionary device that combines state-of-the-art technology with a compact, portable design. This tiny device is one of the most compact and lightweight e-cigarettes on the market, making it easy to take with you wherever you go. Despite its small size, the MYLE Micro is packed with features that make it a pleasure to use and provide a truly satisfying vaping experience.
One of the standout features of the MYLE Micro is its 3 ml tank, which delivers up to 1000 puffs. This means that you can enjoy hours of vaping without needing to constantly refill or recharge. The device also features a cotton coil, which adds incredible stability to your flavor experience by improving the device's performance and increasing the longevity of your coil. With this cotton coil, you will never experience a burned taste, ensuring that your vaping experience is always smooth and satisfying.
MYLE Micro comes in 20 vibrant colors as well as 20 popular tobacco-free, salt-nicotine fruit flavors in 2% and 5% concentrations. The device is designed to be easy to use, with a simple push-button activation and no complicated settings to adjust. This, combined with the 20 popular flavors, makes the MYLE Micro an ideal device for both experienced vapers and beginners who are looking to switch to vaping.
The combination of convenience, flavor and superior performance in a micro-sized device makes the MYLE Micro an ideal option for anyone looking for a reliable and enjoyable vaping experience. Whether you're on the go or relaxing at home, the MYLE Micro is sure to provide you with a satisfying and enjoyable vaping experience.
Shipping & Delivery Guidelines :
🏍️Same Day Delivery: Place your 🛍️order at anytime and we'll deliver at your doorstep same day.
🕕Next Day Delivery: Place your order by midnight and we'll strive to have it at your doorstep the next day.
🌍Broad Coverage: We deliver across all 7 emirates in UAE, excluding some remote areas.
🔂Operational Days: Our deliveries run 7 days a week, barring public holidays.
🚚Prompt Dispatch: We aim to dispatch your order📦 by noon the following business day. Unforeseen circumstances like severe weather might cause occasional delays.
🏍️
Delivery Options:
There are 2 options are available for delivery 1) Standard Delivery 2) Express Delivery
📝Reception of Packages: We ship without requiring signatures. Ensure someone is there to collect your parcel.
🛒Our Responsibility: We take great care in shipping, but we can't be held accountable for items lost or damaged during transit.
📦Pre-Orders: For items on pre-order, check the product description for specific delivery dates.
📍Address Finality: Once placed, orders are shipped to the provided address. We can't alter this later. Note: If a refund is necessary, the initial shipping fee will be excluded.
💲Payment & ID: Delivery will be handed over upon presenting your Emirates ID/Passport and clearing the invoice amount.
🔞Age Restriction: Buyers must be 18 or older. Orders placed by minors will not be refunded.
Delivery Charges :
3️⃣0️⃣Standard Rate: A delivery charge of AED 30 applies to orders below AED 200.
🆓Free Delivery: Enjoy complimentary shipping for orders valued at AED 200 or more.
🆗Promotional Shipping: Unless mentioned, shipping promotions apply to standard delivery.
Order Notifications :
📝Order Acknowledgment: After placing an order, expect a confirmation email from info@iyd.ae.
📧🪀Delivery Updates: When your order is out for delivery, we'll notify you via SMS, WhatsApp, or email.
📲📍Location Confirmation: Our courier will touch base, either by WhatsApp or call, to verify the delivery address.
🤝🏻Further Queries: Reach out anytime! connect with us on WhatsApp at +971 58 116 8281.