Mega Melon Myle Micro Disposable Device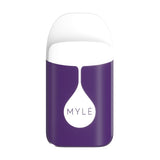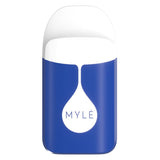 Flavor Description :
For the MYLÉ Micro Mega Melon Disposable Vape Device, get ready for a unique blend of sweet and sour flavors. This portable device offers a refreshing change from traditional e-cigarette flavors with a delicious combination of ripe mango, papaya, and cantaloupe. Enjoy a long-lasting taste without the hassle of refilling or dealing with leaks. perfect for those seeking a quick, convenient, and new vaping experience.
| Title | Specifications |
| --- | --- |
| Flavor Name | MYLÉ Micro Mega Melon |
| Disposable Devices | 1 disposable vape device |
| Size (in.) | Lightweight |
| Manual | 1 User manual |
| Liquid/pod | 3ml built-in reservoir |
| Technology | Anti-leak technology/ Waterproof and sealed |
| Nicotine by volume/unit | 2%-5% |
| Salt Nicotine | 50mg/20mg of tobacco-free salt nicotine |
| Price | Starting from 49 AED |
Note:
This product contains nicotine. Minors shouldn't consume nicotine since it is an addictive chemical. Adults over 21 can only use MYLÉ Drip and other vaping products.
MYLÉ Micro Disposable Device :
MYLE Micro disposable e-cigarette is a revolutionary device that combines state-of-the-art technology with a compact, portable design. This tiny device is one of the most compact and lightweight e-cigarettes on the market, making it easy to take with you wherever you go. Despite its small size, the MYLE Micro is packed with features that make it a pleasure to use and provide a truly satisfying vaping experience.
One of the standout features of the MYLE Micro is its 3 ml tank, which delivers up to 1000 puffs. This means that you can enjoy hours of vaping without needing to constantly refill or recharge. The device also features a cotton coil, which adds incredible stability to your flavor experience by improving the device's performance and increasing the longevity of your coil. With this cotton coil, you will never experience a burned taste, ensuring that your vaping experience is always smooth and satisfying.
MYLE Micro comes in 20 vibrant colors as well as 20 popular tobacco-free, salt-nicotine fruit flavors in 2% and 5% concentrations. The device is designed to be easy to use, with a simple push-button activation and no complicated settings to adjust. This, combined with the 20 popular flavors, makes the MYLE Micro an ideal device for both experienced vapers and beginners who are looking to switch to vaping.
The combination of convenience, flavor and superior performance in a micro-sized device makes the MYLE Micro an ideal option for anyone looking for a reliable and enjoyable vaping experience. Whether you're on the go or relaxing at home, the MYLE Micro is sure to provide you with a satisfying and enjoyable vaping experience.
SHIPPING & DELIVERY GUIDELINES
✔️ Same Day Delivery: Place your order before 4pm and we'll deliver at your doorstep same day.
✔️ Next Day Delivery: Place your order by midnight and we'll strive to have it at your doorstep the next day.
✔️ Broad Coverage: We deliver across all 7 emirates, excluding some remote areas.
✔️ Operational Days: Our deliveries run 7 days a week, barring public holidays.
✔️ Prompt Dispatch: We aim to dispatch your order by noon the following business day. Unforeseen circumstances like severe weather might cause occasional delays.
✔️ Delivery Options: There are 2 options are available for delivery 1) Standard Delivery 2) Express Delivery
✔️ Reception of Packages: We ship without requiring signatures. Ensure someone is there to collect your parcel.
✔️ Our Responsibility: We take great care in shipping, but we can't be held accountable for items lost or damaged during transit.
✔️ Pre-Orders: For items on pre-order, check the product description for specific delivery dates.
✔️ Address Finality: Once placed, orders are shipped to the provided address. We can't alter this later. Note: If a refund is necessary, the initial shipping fee will be excluded.
✔️ Payment & ID: Delivery will be handed over upon presenting your Emirates ID/Passport and clearing the invoice amount.
✔️ Age Restriction: Buyers must be 18 or older. Orders placed by minors will not be refunded.
DELIVERY FEES
✔️ Standard Rate: A delivery charge of AED 30 applies to orders below AED 200.
✔️ Free Delivery: Enjoy complimentary shipping for orders valued at AED 200 or more.
✔️ Promotional Shipping: Unless mentioned, shipping promotions apply to standard delivery.
ORDER NOTIFICATIONS
✔️ Order Acknowledgment: After placing an order, expect a confirmation email from info@iyd.ae.
✔️ Delivery Updates: When your order is out for delivery, we'll notify you via SMS, WhatsApp, or email.
✔️ Location Confirmation: Our courier will touch base, either by WhatsApp or call, to verify the delivery address.
✔️ Further Queries: Reach out anytime! connect with us on WhatsApp at +971 58 116 8281.
Age Restriction:
This product is strictly for adult use and should not be sold to individuals below 21 years of age. Health & Usage Advisory:
✔️ This product may pose health risks and is intended only for adult smokers. Keep away from children.
MYLE products containing nicotine e-liquid are not recommended for:
❌ Anyone under 21.
❌ Pregnant or breastfeeding individuals.
❌ Those allergic or sensitive to nicotine.
❌ Individuals with or at risk of heart conditions or high blood pressure.
Battery & Device Precautions:
✔️ There's an inherent risk with the use of any rechargeable batteries at all times.
✔️ Neither MYLE Vape Dubai UAE nor its parent or subsidiary entities assume liability for modifications to batteries, chargers, or products.
✔️ We are not responsible for any injury, damage, or defect, whether permanent or temporary, resulting from the use of Li-ion (Lithium-ion), LiPo (Lithium-ion Polymer), or other rechargeable batteries and chargers.
Battery Care & Handling:
✔️ Be diligent when using Li-ion, LiPo, and other rechargeable batteries; they can be sensitive and may burn or explode if mishandled.
✔️ Understand the nature of the batteries and chargers you are using and ensure their proper care.
✔️ Always charge batteries on a clean, fire-proof surface, and never leave them charging unattended.
✔️ Do not use batteries with visible damage and store them in a non-conductive, safe container.
✔️ Avoid mishandling batteries, whether accidental or intentional.
Safety Storage & Disposal:
✔️ Never use damaged batteries or chargers. Store and transport them in a safe, non-conductive container. Dispose of battery cells, chargers, and electronic devices as per local regulations.
Warranty & Return Policy
Warranty
✔️ Products come with a 24Hours warranty for factory defects.
✔️ To avail the warranty, you must provide the MYLE Vape Dubai UAE invoice number.
Returns
✔️ You can request a refund or exchange within 2 days of purchase. Beyond this timeframe, claims will not be entertained.
✔️ For returns, the product should be unused, in its original condition, and packed in its factory packaging.
✔️ We only accept returns in cases of: Factory defects, Errors in packaging
Refund Process
✔️ Upon receiving your returned item, we will notify you via email.
✔️ After inspection, you'll be informed about the approval or rejection of your refund. If approved, refunds will be processed through bank transfer or occasionally in cash. If rejected, the same product will be returned to you.
Exchanges
✔️ We only exchange products that are defective or damaged.
✔️ For exchange requests, connect with us on whatsapp at +971 58 116 8281. Exclusions
The following aren't covered under the warranty:
❌ Pods
❌ General accessories
❌ Damage due to misuse, physical marks like scratches or signs of dropping, misuse of batteries or chargers
❌ Force majeure circumstances
❌ Items tampered by third parties
❌ Products under another warranty or repaired by non-authorized MYLE Vape Dubai personnel
❌ Injuries or damages from use, third-party software, alterations, or defaced serial numbers.
Pods Policy
✔️ Pods are neither refundable nor returnable. Everyone's taste is subjective; what may appeal to one might not appeal to another.
✔️ We cannot accept returns on e-liquids due to potential tampering, even if they're sealed, unless sent incorrectly in your order.
Indemnity
✔️ By using our site, you agree to defend, indemnify, and hold MYLE Vape Dubai harmless from any claims, damages, or expenses, including attorney fees, arising from your use. User Responsibility
✔️ The user is expected to understand the products before purchasing. Misuse or damage from learning is not covered under warranty. Like any other hobby, vaping requires research, and users are expected to review and understand products before buying.